You can save your tables inside Stat-Xplore. Once saved, the table definitions will be available again the next time you log in to Stat-Xplore.
Tables saved by users in Stat-Xplore are private (only visible and accessible to the user who created the table).
Save Tables
Click the Save icon to save the current table:

You will be prompted to select the save location and enter a name for the table. Choose your name and location and click Save: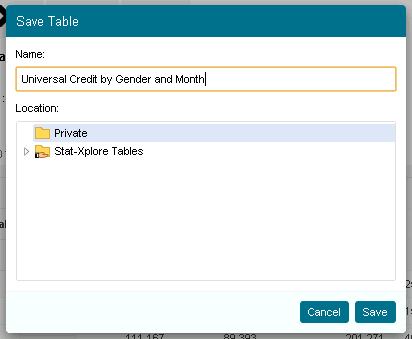 Stat-Xplore is configured to only allow users to save to the Private folder. This folder will allow users to save tables which are only accessible to them.
The name of the table must be less than 255 characters long and must have a unique name.
Load a Saved Table - Saved Tables Tab
Once you have saved a table, you can access that table again by selecting the Manage Tables option from the menu in the top right of Stat-Xplore: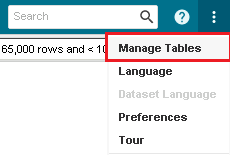 Select Manage Tables.
Select the table you want to reopen.
Click Open.

If you currently have a table open, then Stat-Xplore displays a message warning you that any unsaved table content will be lost (this means that the selected table will replace the currently active table). Click OK.
Your saved table displays.
Load a Saved Table - Home Tab
You can also access saved tables from the Home tab. This is displayed when you log in to Stat-Xplore, or whenever you click the Home link in the top left corner:

To open your saved table, click the dataset it was created from, then go to the Tables list and double-click the table name. For example: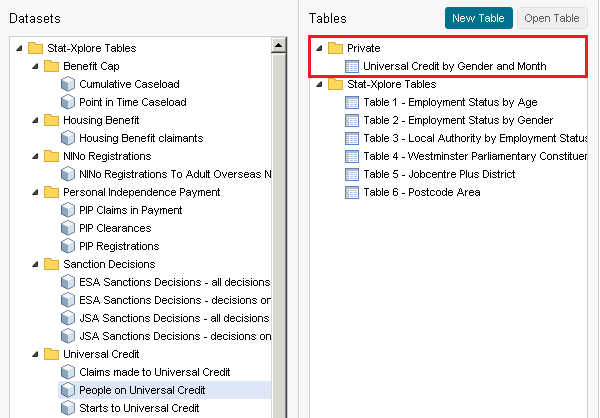 Manage Saved Tables
Manage Tables also allows you to rename saved tables, create new copies of saved tables, and delete saved tables:
Rename a Saved Table
Select the check box next to the table you want to rename.
Enter a new name in the text box.
Click Rename.
Copy a Saved Table
Select the check box next to the table you want to copy.
Click Copy.
Delete a Saved Table
Select the check box next to the table or tables you want to delete.
Click Delete.
Click OK to confirm you want to delete the table or tables. Make sure you check that you are deleting the correct table or tables, as there is no way to undo the deletion.
Large Table Downloads
The Saved Tables tab also shows details of large tables that you have queued for download. You can use the options to check the status of large table queries, download any tables that have completed processing, and manually delete the tables:

See Large Tables for more information about using Stat-Xplore in large table mode.
Attachments:

SW2-SaveTable.png
(image/png)

SW2-SaveTableName.png
(image/png)

SW2-Saved-Tables.png
(image/png)

SW2-Selectdatabaseortopic.png
(image/png)

SW2-Data-Cat-Saved-Tables.png
(image/png)

SW2-Selectdatabaseortopic.png
(image/png)

SW2-Data-Cat-Saved-Tables.png
(image/png)

SW2-Saved-Tables.png
(image/png)

SW2-SaveTable.png
(image/png)

SW2-SaveTableName.png
(image/png)

SW2-SaveTable.png
(image/png)

SW2-Selectdatabaseortopic.png
(image/png)

SW2-Preferences.png
(image/png)

SW2-Preferences-2.png
(image/png)

SW2-Preferences.png
(image/png)

SW2-Preferences-2.png
(image/png)

SW2-SaveTable.png
(image/png)

SW2-SaveTableName.png
(image/png)

SW2-SharedTableFolders.png
(image/png)

SW2-Saved-Tables.png
(image/png)

SW2-Selectdatabaseortopic.png
(image/png)

SW2-Data-Cat-Saved-Tables.png
(image/png)

SW2-Saved-Tables.png
(image/png)

SW2-SaveTableName.png
(image/png)

JQM-Saved-Tables.png
(image/png)

SW2-Preferences-2.png
(image/png)

SW2-SaveTableName.png
(image/png)

JQM-Saved-Tables.png
(image/png)

SW2-Selectdatabaseortopic.png
(image/png)

SW2-Preferences.png
(image/png)

SW2-Preferences-2.png
(image/png)

JQM-Saved-Tables.png
(image/png)

SW2-ManageTablesMenuOption.png
(image/png)

SW2-Selectdatabaseortopic.png
(image/png)

SW2-Data-Cat-Saved-Tables.png
(image/png)

SW2-Preferences.png
(image/png)

SW2-Preferences-2.png
(image/png)

SW2-SaveTableName.png
(image/png)

SW2-SaveTable.png
(image/png)

SW2-Saved-Tables.png
(image/png)

SW2-Data-Cat-Saved-Tables.png
(image/png)

JQM-Saved-Tables.png
(image/png)

SW2-ManageTablesMenuOption.png
(image/png)

SW2-Preferences.png
(image/png)

JQM-Saved-Tables.png
(image/png)